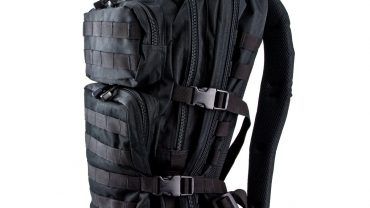 These 4 Tactical Backpacks offer you the biggest bang for your money .  Even if you are just going on an afternoon hike, a bike ride through a National Park, a 3-day camping trip or a serious outdoor survival exercise like a search-and-rescue mission, the way you pack your gear in your Tactical Pack is essential for both comfort and endurance.
You just can't go as long or as fast if you're carrying too much weight or it's badly packed, bumping around low on your back. You need to keep your gear high and tight, and these tactical backpacks will have you on your way with everything in tow.
Tip: check out our best EDC backpack guide to help you choose the best everyday carry backpack.
Features To Look For In Tactical Backpacks
Many tactical backpacks have special features like organized pouches and compartments, external ports (holes or slits) for earphone and hydration bladder compatibility, molle gear, and compression straps.
Of course comfort is of paramount importance, so look for padded shoulder straps, a waist belt, and sternum straps. We also consider durability, weight and price. What's the point in a tactical backpack that can't handle wear, tear, and bad weather? And since everyone needs different gear for their work or adventures, customizable features are a big plus in our book.
Check out these tactical backpacks and choose the one that best fits your needs.
The North Face Unisex Recon Tactical Backpack
Available in 18 different colors, from solid black to orange with red for high visibility. This pack features a fleece-lined 15-inch padded laptop sleeve within the main compartment (which isn't something you'll find in most tactical backpacks), two mesh water bottle pockets, more water bottle tabs, and a variety of other pockets that great for little things like your free Everstryke Pro survival lighter, your free credit card knife or free keychain multi tool.
It's a great starter tactical backpack, or one for people who are looking for an everyday carry or bug out bag. It withstands weather, has pocket reinforcement, and a waist belt and sternum strap for comfort.
SOG Ninja Tactical Backpack
The SOG Ninja is one of Amazon's bestselling SOG tactical backpacks for a reason… it's great for every day carry backpack that also makes for a great bug-out bag that also comes with a Lifetime Warranty (something rarely found in tactical backpacks), so you know it's made to last.
This fully modular tactical backpack with MOLLE webbing (great for quickly adding additional storage) is water repellent and has one cavernous main compartment for your survival gear. It also has a extremely soft pocket that's perfect for storing your sunglasses, your mobile phone or your other sensitive electronic gear.
The SOG Ninja also has a small accessory pocket for storing your flat items, and a zippered front organizer pocket. It's also compatible with your favorite hydration bladder with all the necessary external ports so you can stay hydrated.
If you'd like to make sure that you are packing the right gear and emergency supplies for your backpack, then check out this customizable day hike checklist for ideas of things you may not have thought of.
5.11 Rush 72 Tactical Backpack
Comes in 7 different colors, and constructed of 1050D nylon with water-repellent coating on the main body and inside pocket flaps and bags. This tactical backpack features a foam-padded hydration pocket, laptop storage, two external compression straps, and internal frame support.
It also has a sternum strap and waist belt to reduce shoulder stress and a big 23 x 13.5 x 8.5 inch main compartment that opens flat. There is also MOLLE webbing on this pack, allowing you to add a ton of additional gear pouches including your best tactical flashlight.
This backpack is suited for everyday carry, military, hunting, exploring, sports, hiking and tactical survival situations.
Spec Ops T.H.E. Ultimate Assault Tactical Backpack
This 40 liter pack is 19 x 13 x 12 inches, made in the USA, and is well suited to an every day carry, daypack or military tactical bag. T.H.E. stands for "Tactical Holds Everything", but as tactical backpacks go it is actually a great all-purpose travel or survival bag.
This tactical pack has a lot of MOLLE webbing, on front pouches, bottom and sides, so you can strap anything to it. Your hydration bladder fits in the midpoint of the pack for balance.
T.H.E. Ultimate Assault Pack features a Lifetime Guarantee and is also fully lined in high-visibility yellow so you can find your items. Spec Ops claims these bags have never had a harness failure, that's a pretty strong selling point for those who want a really rugged bag!
Tactical Backpacks Wrap Up
Remember tactical bags also make for a great bug out bag, get home bag, and every day carry bag when you need one. Keep them organized and properly packed (with lost of free survival gear) and the will take care of you for many years to come.