If you've spent any time around avid hikers and campers, or even poked around an outdoors store, chances are you've run across a paracord bracelet woven out of what looks like leftover bits of nylon rope or cord.
You may have wondered why the outdoor survival gear type would feel the need to make such a fashion statement.
You might too if you knew that fashion statement bracelet made out of nylon cord could save your life.
There is more to those paracord bracelets than meets the eye. They're called paracord bracelets because they're made from the same grade of 550 paracord that has been used for parachutes since World War II.
These bracelets have grown in popularity over the last several years as an outdoor survival and bushcraft tool. The cord can support up to 550 pounds and can be used in a variety of day-to-day and survival situations.
Your fashion statement just might save your life. But don't run out and buy a paracord bracelet just yet, we'll be showing you how to get one free.
Making a Shelter With A Paracord Bracelet
When you find yourself in a survival situation, the first order of business should always be setting up your shelter.
Your paracord survival bracelet can be used to build at least a couple different shelters:
Lean-To
Parachute cord can be used to lash together a lean-to framework out of tree limbs. It can also be used to secure the roofing material (such as more tree limbs) to the frame.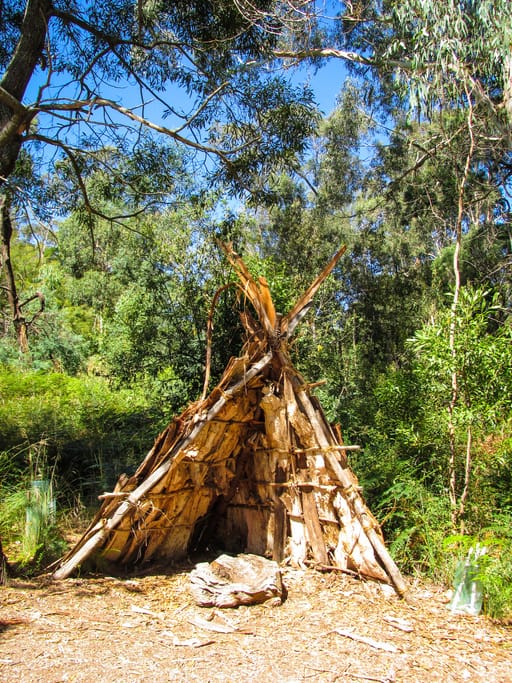 Tarp Tent
If you have a tarp, you can use your unwound paracord bracelet to build a makeshift tent. For instance, you can tie a line between two trees, throw the tarp over it, and use extra cord to tie down the corners of the tarp.
Catching Dinner With Your Paracord Bracelet
Next on the survival agenda is finding dinner.
Your paracord bracelet is going to come in handy here too.
The paracord can be used to make a snare for catching small game. You can also use one of the smaller inner threads as a fishing line or weave them together to create a fishing net.
Making a Fire With a Paracord Bracelet
Now that you have managed to catch dinner, it's time to cook it.
If you don't have any dry sticks or leaves to use as kindling, pull out some of the inner threads of the paracord bracelet that will be able to catch a spark.
You can use the remaining length of paracord and the bow drill method and get your fire roaring in no time.
Keeping Camp Secure
Chances are the wildlife is just as hungry as you and unless you want to share your hard-won vittles, you need to keep your food off the ground. Use your paracord to hang food and belongings from a nearby tree.
Just be sure to hang your supplies high enough off the ground and far enough from a tree trunk that it will be beyond the reach of bears or other animals. Speaking of bears, be sure to keep food stored AWAY from your campsite so as not to attract them to where you are.
If you're really concerned, you can use your paracord to set up tripwires along the perimeter of your camp that are attached to empty cans. That will alert you if an intruder or large animal wanders in to your campsite.
Medical Emergency
In case of a medical emergency, a length of paracord can be used a tourniquet. You will probably need to lash a stick to the cord and twist the stick around to create enough pressure to stop the bleeding.
You can also fashion a splint from paracord braced with sticks. In this case you need to be sure your splint is not tied on so tight as to restrict blood flow. If necessary the inner threads can also be used as sutures.
Tying up Odds and Ends around camp
Your bracelet could end up being the most versatile tool you have in camp.
Paracord can be used as floss, to patch a tent or ripped clothes, or even to replace broken shoe laces.
Make your Escape
When you've had enough adventuring, lash logs together to create a raft. Or use your paracord bracelet to rappel down steep hills on your way back to civilization.
The sky is the limit when it comes to 550 paracord. If something is broken around camp, chances are you can mend it. If you're lacking a tool, there is a good chance you can find some way your paracord bracelet can serve as a substitute.
But paracord bracelets aren't just about survival in the wilderness.
Here are just some of the handy paracord uses we've seen for common every day items:
Paracord keychain
Paracord dog collar or leash
Paracord sling
Paracord belt
Paracord lanyard
Paracord hair-tie
Paracord strap wrench
Paracord macrame decorations
However, in the end my favorite use for paracord is for making a 550 paracord bracelet for survival, plain and simple.
Get the best price available for the Paracord Braclets on Amazon, or check them out on eBay.
Just keep in mind that freesurvivalgear.org is supported by ads and affiliate promotions so if you end up grabbing some free survival gear it is still possible for me to earn a commission.