everyday-carry-bag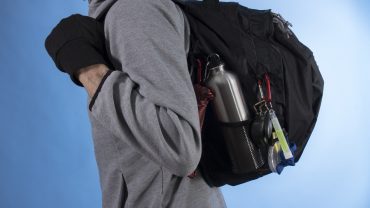 So you decided you should have a survival-focused everyday carry bag (AKA edc bag). Then you read articles about what to look for, and weighed the pros and cons of things like tactical bags vs messenger bags.
You thought about whether you needed features like a tablet sleeve or a waterproof main compartment. And then you made the big decision and got yourself something like the Bellroy Classic Backpack, or maybe the Chrome Industries Urban.
The bad news is that you still have to decide what gear to pack. It can be tough to decide what everyday carry essentials you need. After all, your life might depend on it. The good news is we're here to help you with that.
You don't want to pack your edc bag so full of stuff that it gets uncomfortable to carry. That's why it's important to carry only what's essential, plus maybe a few extra items.
Basically, you want your everyday backpack contents to serve as your first line of defense should you get into a dangerous situation. But there are all sorts of dangerous situations you can get into, so you need to focus on picking versatile gear.
Let's take a look at the top 5 items you should definitely pack in your Everyday Carry Bag.
1. Basic Survival Kit
All good everyday carry backpacks always contain a basic survival kit. Think of your basic survival kit as being a bit like your first aid kit. Except instead of healing your wounds, this kit serves to protect you from the elements.
Here are the gear you'll want to include in this kit:
A small source of fire (A BIC lighter or survival lighter will do just fine. Just make sure it has fuel).
A Ferro Rod or Magnesium Fire Starter for when you need a waterproof fire starter.
A water filter
A water bottle (most everyday carry backpacks have a dedicated water bottle pocket)
A good knife
A flashlight with extra batteries
A compass
A whistle
Duct tape
Paracord
2. Basic First Aid Kit
As anyone in the everyday carry community will tell you: a first aid kit is really something everyone should have around at all times, survivalist or not.
Now, it's difficult to pack a first-aid kit that will prepare you for every type of injury. Even so, a few supplies can really go a long way and should easily fit in your EDC bag.
These supplies include:
Bandages
Gauze pads
Antiseptic cream
Medical tape
Pain relievers like Acetaminophen, Ibuprofen or naproxen sodium.
Small pair of scissors
Tweezers
Burn cream
Of course, depending on your own medical needs, you may need to pack some extra items in your first aid kit. For example, an Epi-pen if you're allergic to bees or have a food allergy. Or, you may need to sunscreen if you burn easily.
3. Cell Phone/Communication Device
If you find yourself in an emergency situation, it's important to be able to call for help.
Of course, cell phone reception only goes so far and cell phone batteries only stay charged for so long.
Many survivalists are also against the idea of carrying a cell phone with their everyday carry items because they somehow think it's "cheating."
But if you really want to feel like it's man vs. nature, you don't need to have your cell phone turned on at all times.
You should also consider carrying a rechargeable battery pack in your EDC bag in case your other one runs out of juice.
4. Energy Bars
While you may not think you'll need extra snacks along the way, energy bars can come in handy when you're in a pinch.
You never know where you'll end up where food supplies might be short.
Make sure the bars you pack in your edc bag have a high dose of protein to keep you full.
5. Weapon
Oftentimes, people are so concerned about protecting themselves from the elements that they forget about protecting themselves from mankind.
It's always good to have a weapon handy for quick access in case someone tries to attack you.
Your weapon of choice should be one that's easy to carry and most importantly, one you're comfortable using. Pepper spray can be a great option, or perhaps an everyday carry knife (even a credit card knife would be useful).
Everyday Carry Bag Contents: Wrap Up
We hope this list makes packing your everyday carry backpack or edc bag easier.
If you have questions about where to find any of these items or how to select the right ones, please drop us a comment below.
Bestseller No. 1
tomtoc Compact EDC Sling Bag, 4L Minimalist Chest Shoulder Backpack Crossbody Bag for Men and Women, Water-resistant Lightweight Everyday Carry Casual Bag for Tactical, Travel, Work, Gym, Sport
[Lightweight and Stylish] External Dimensions:12.20″ x 5.90″ x 2.95″; This compact sling bag is not only a fashion statement, but also provides a convenient way to carry the essentials while exploring the city or traveling the world; Made of Cordura Ballistic Nylon. Incredibly sturdy, lightweight and water-resistant with heavy-duty durability. YKK zipper for secure and long-lasting usage.
[For Every Situation] Made with minimalists in mind, you can cruise along with all your necessities, without huffing and puffing about the inconvenience of carrying a bag. 4 L storage with dimensions: 12.20″ x 5.90″ x 2.95″, perfect for city day trips, long walks or sightseeing.
[Multi-functional Storage] Features three compartments. Quick access front pocket for AirPods Pro, credit cards; Multiple internal pockets in the middle for tech devices, such as Kindle, Power Bank, cable etc. ; Hidden back pocket for your mobile phone or passport.
[Comfortable and Convenient] The ergonomic, single-strap design ensures the pack's load is carried close to your body for optimal comfort. Duraflex buckles allow you to wear the sling bag comfortably and take off the bag quickly when passing the security inspection.
[What You Get] : Black sling bag, worry-free 12-month warranty, and our friendly customer service. (Other accessories are not included, for demonstration purpose only)
Bestseller No. 2
Tactical Sling Bag Pack w/Gun Holster Small Military Rover Shoulder Sling Pack Molle Assault Range Bag Everyday Carry Diaper Bag
Sling pack is a great small everyday carry diaper bag or travel sling bag to take on small trips or go hammocking for a little bit where you may require some snacks or other relatively small items
Sling bag backpack has adjustable and comfortable shoulder strap, and also has two smaller straps to help reduce the sway of the bag while moving as small military rover shoulder sling backpack
Sling pack is a great small everyday carry tactical diaper bag or travel sling bag to take on small trips or go hammocking for a little bit where you may require some snacks or other relatively small items
Sling bag backpack has adjustable and comfortable shoulder strap, and also has two smaller straps to help reduce the sway of the bag while moving as small military rover shoulder sling backpack
Bestseller No. 3
Hebetag Leather Shoulder Bag Handbag for Men Women Everyday Use Casual Business Briefcase Cross Body Messenger Pack Tote Handbags Brown
Durable & Genuine Leather Shoulder Handbag: This messenger bag handbag is made of cowhide genuine leather, top-quality zippers, fabric lining, zip closure, leather and excellent workmanship, contemporary type design, vintage, fashion and luxury, which shows your outstanding temperament when business outdoor travel.
Versatile & Spacial: 18cm(W)x6cm(D)x22cm(H)(7.08″x2.36″x8.66″) approx; fit pad mini, weight: 450g approx; 1 main zipper pocket with small internal zipper pocket; 1 zipper front pocket; 1 zipper pockets at the backside; 1 magnetic closure pocket, ideal for business, travel, hourse, outdoor, camping, hunting, hiking, Shopping, and other outdoor activities.
Designed for comfort: Good construction, organizers, comfortable carry, enough place for carrying up your pad mini, cell phone, keys, short pens, cards, flashlight, chargers, power bank, receipts. easy to wear, vintage and fashion, brings you more fashion sense and happiness to carry it all the time, perfect Gift for Christmas, New Year, Thanks Giving Day, Groomsmen, Birthdays, Father's Day.
Multipurpose use: This stylish messenger bag can used as a tote handbag, crossbody bag, shoulder bag, sling bag, business messenger bag, business wallet/purse, fit very well for adult men or women, perfect for busienss, outdoor, travel, camping, shopping, leisure and work, easy to put it in you backpack, luggage bag or suitcase when you travel.
100% satisfaction guarantee warranty and friendly customer service: Don't worry about the service. If you have any problem about the item, Please Do not hesitate to contact us. (Through the order ,you can find out : CONTACT SELLER) We will be there with you!
Sale
Bestseller No. 4
Baggallini Women's Original Everyday Bag, Black, One Size US
HANDS-FREE FUNCTIONALITY: Never miss a moment! Stay present no matter where your day leads courtesy of this crossbody tote bag's convenient hands-free design and quick-access pockets.
MACHINE WASHABLE: Quickly refresh your bag with ease! Just place your bag in a washing bag or pillowcase, and wash in warm water with mild detergent. Stuff pockets to maintain shape while air drying; it's that simply!
PROTECT YOUR PEACE OF MIND: With built-in RFID-blocking technology, you can rest assured that your personal info is safe on day-to-day travels and epic adventures alike thanks to this everyday crossbody bag.
ALL-DAY ADJUSTABILITY: Customize your comfort with an adjustable, removable strap designed with busy days in mind.
Bestseller No. 5
ZEROHOUR EDC Pouch with Elastic Grid Organizer for Everyday Carry EDC Gear with Expandable Zipper and Detachable Small Molle Pouch Made with 500D Cordura Nylon (Black)
✔️ COMPRESSION & EXPANSION ZIPPER: Our EDC pouch is one size with dual capacity 7″H x 5″W. The zipper is designed to expand or collapse the overall depth of the bag to give you 1.5"D of space to store small or 3″D for large items in the tactical admin pouch.
✔️ RUGGED MATERIALS: Made with water-resistant 500D fabric to keep your gear drier on the inside when you are outdoors in rain or snow. The EDC molle pouch features thick D-Ring pulls with reinforced silicone wrapped, YKK zippers for extra strength and pull resistance and velcro morale patch area. This tactical pack will withstand some serious outdoor and emergency response needs.
✔️GRIDLOCK STRAPS & DETACHACABLE POUCH: ZEROHOUR EDC organizer's elastic grid-style bungie straps is one of our signature features. The straps provide versatility to store and secure all the little things including first aid kits, edc tools, and tech cables. A detachable zippered-mesh pouch to keep everything in place. A great attachment to your edc belt or emt pouch.
✔️ MULTI-CARRY OPTIONS: Small handle at the top of the bag for quick grab-and-go and two long MOLLE compatible snaps that can be attached to your backpack, tactical vest, or bag so you don't misplace it or leave it behind.
✔️ ZEROHOUR – A TRUSTED BRAND: We stand by the quality of our products and make no compromise to our edc pouch bag. Our products are carefully designed with functionality in mind. We are located in California, USA.