No matter which side of the fence you're on, everyone is getting into survival gear these days and a credit card multi tool is a "must have" item to have in your pocket, everyday carry pack or bug out bag.
If you don't know where to start, let us explain why credit card multi tools are the best option.
Credit Card Multi Tools: When Size Does Matter
We know most survivalist gear is associated with the kinds of tools, weapons, and shelter you see on television shows like Doomsday Preppers.
Still, no matter what kind of disaster you're preparing for, you don't have to spend a lot of money on bulky supplies that take up tons of space in your home.
A credit card multi tool fits neatly inside your wallet and is usually lightweight. That means you can carry your credit card multi tool with you at all times, instead of a bulky swiss army knife.
Plus, credit card multitools are incredibly durable, meaning they won't snap a week after purchase, especially if it is made from heat treated stainless steel.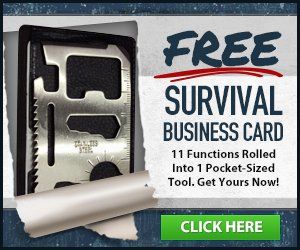 Extra Tip: If you don't want to put your tool in your wallet, there are tons of keychain multi tool options that have similar features.
You've Got A Lot Of Ways Out
Credit card multi tools aren't usually a single piece of survival gear.
Instead, they contain several things that can help you out in a variety of emergency situations.
Some multi tools contain as many as 20 different functions. Some of the most popular features include a fire starter, bottle opener, magnifying glass, knife blade, nail file, box opener, nail puller, and butterfly screw wrench.
They're tech-friendly, too, with many credit card multi tools even including an LED light and a cell phone stand so you can prop up your device and watch an episode of your favorite show.
You Can Choose What Matters The Most To You
Survivalists are people, too. Which means we all have different priorities and concerns when it comes to picking the best credit card multi tool.
Some tools prioritize features that can keep you fed — like knives, fishing wire, and even the head of an axe. Others just keep you looking good, and include things like a comb, scissors for nails or hair, and a mirror.
There are even industry-specific credit card multi tools that can be used on the job. These include all the tools that are exactly what you need — like rulers with multiple measurement options, protractors, drill bits and bolts, and even a few spare parts for basic, quick repairs.
Of course, a bottle opener and a box cutter are features that you can find in just about any multi tool.
Credit card multi tools may be small, but they pack a big punch.
Whether you're just starting out as a survivalist, or if you've been in the game for a while and are starting to rethink your strategy, they can put the world – and the tools to save a life – at your fingertips.
Check out this 100% Free Credit Card Multi Tool – Hurry, This Free Off won't last for long!
Here's What You Get When You Order Your Free Credit Card Multi Tool Today:
This all stainless steel clever little tool includes…
1. A handy Can Opener to open up your favorite can of emergency survival food (or a can of spaghettios).
2. A Knife Edge for cutting open your emergency food rations (or those insanely-hard-to-open packages that the UPS guy keeps dropping off).
3. Slotted/Flathead Screwdriver
4. A 4 inch Ruler, great for measuring those massive perch you jerk out of the lake.
5. Bottle Opener to open the cold beverage of your choice on a hot summer day.
6. 4 Position Wrench for wrenching those little square nuts that are too small to grab with your fingers.
7. Wingnut Wrench for busting loose those pesky rust-covered wingnuts (like the ones on your car battery's clamp).
8. Serrated Knife Blade for ripping through the kindling you need to start your survival fire.
9. A Direction Ancillary Indicator which is basically a water-based survival compass.
10. A smaller 2 Position Wrench for those smaller nuts that need some extra loosening power.
11. Keychain/Lanyard Hole so you can attach it to you keychain or pack, which pretty much turns it into a keychain multi tool.
Plus, you get these bonuses…
BONUS #1 : The new "Ultimate Survival Skills" book.
BONUS #2: You get a FREE 2 Hour online Survival Class.
Grab Your 100% Free Credit Card Multi Tool Right Now, Before It's Too Late!
This blog is supported by advertisements so if you do end up buying something based on my recommendation I may earn a commission.